Topic : How to make ecosystem friendlier towards Women
Venue : India Habitat Center - February 3, 2017
A major challenge that India faces today is the fact that how to optimize the contribution of women to the economic growth or optimize the impact of women entrepreneurs to the national economy. We all know that we have to create an ecosystem for this which is international in true sense and spirit to foster women's leadership roles in our economy and in general. The question today is how?
This is what we discuss today.
How do we make Indian Start up scene more women friendly? In our previous edition, of she speaks, we explored social and cultural factors leading to gender bias and how they impact economic freedom and entrepreneurship amongst women.
Everyone here is aware of psycho social factors which generate fear and become an impediment to the economic independence of women. The list could be endless from personal fears to lack of confidence created as a result of overall patriarchal mind set to the physical safety of women per say inside and outside of their homes.
But for today let's focus on solutions and address to our experts - how can eco system be made friendlier or what are the enablers for entrepreneurship?
Women entrepreneurs in India are found more in fashion and food tech sectors, than in tech, automobile, Software as a Service (SaaS) or gaming. But even in those two sectors, 70 percent are men.
Let's explore what seems obvious and then turn to our experts today to delve deeper into what FEARS AND CHALLENGES women face and how do we overcome them.
Engineering, finance technology are all field indicators of gender disparity.
Are they less competent than their male counterparts?
Today we need more role models and mentors for women, to inspire them and help them ease into a male-dominated ecosystem. There is also this fear among investors that women are more likely to prioritise their personal life, when the need arises Women prioritise biological clock over booming career.
Unfriendly prodding & women put on spot & ultimately chose to leave the investor & most often give up when there are couple or family issues.
A major cultural element also plays role here. "Women are taught not to take risks; they grow up sheltered and are then married off as young adults.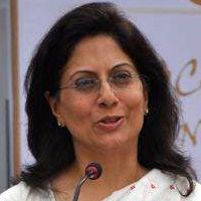 Vinita Sethi
CEO Apollo Group
Asa Torkelson
UN Women India Representative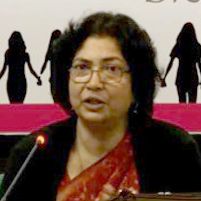 Archana Gupta
DG Doordarshan
Anurag Gupta
Chariman and Editor in Chief Businessworld